详细说明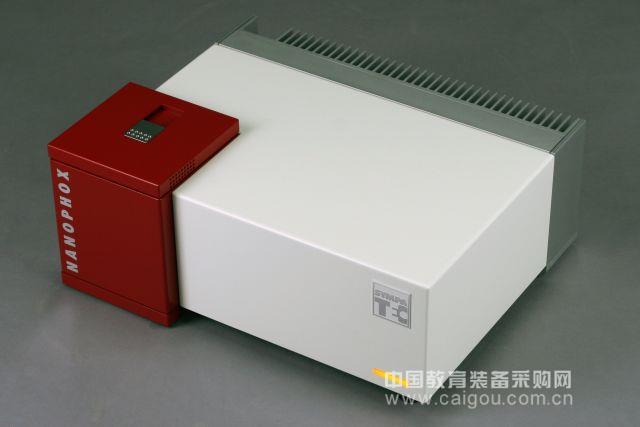 NANOPHOX/R
Particle size & stability analysis
with Photon Cross-correlation Spectroscopy from 0.5 nm to 10 µm




NANOPHOX/G is an innovative Photon Cross-correlation sensor allowing for simultaneous measurement
of particle size and stability of opaque emulsions and suspensions in the nanometer regime.
Technical specificationsanddimensions.
Photon Cross‐correlation Spectroscopy (PCCS) | Particle Size and Stability with NANOPHOX/R from 0.5 nm to 10,000 nm
In general, the acquisition of scattered light intensities of particles under thermal motion is deployed for nanoparticle characterisation (principle of dynamic light scattering (DLS)). The method known as Photon Correlation Spectroscopy (PCS) applies auto‐correlation of scattered light intensities in order to determine particle size distribution. However, this conventional technology requires extremely diluted samples in order to deliver meaningful results.
NANOPHOX/R brings Photon Cross‐correlation Spectroscopy (PCCS) to life, which allows for nanoparticle size analysis in turbid suspensions and emulsions ranging from 0.5 nm to 10,000 nm at up to a hundred times higher solid contents. In addition, stability of nanosuspensions and emulsion may be analysed. The outstanding technological feature of NANOPHOX is the acquisition of two separately induced scattered light intensities which then are cross‐correlated. This allows for robust measurement even at higher sample concentrations. Typical applications comprise e.g., pharmaceutical ingredients, pigments and research on nanomaterials in general.
Technical specifications
Sensor
NANOPHOX/R
Overall measuring range
0.5 - 10,000 nm

Measuring Principle
Dynamic light scattering (DLS), at 90°
Photon cross-correlation Spectroscopy (PCCS)
Light Source
λ = 658 nm (red), Pout= 0 - 35 mW, adjustable1
Protection class
1
Optics
two optical paths via beam splitter, alignment free
Measuring zone
temperature controlled water basin, free of
condensation, vial holder on adjustable X/Y-table2
Temperature range
1 - 90°C typ.
Temperature stability
± 0.1°C
Temperature accuracy
± 0.1°C at 20°C, direct measurement at the vial
Sample vials
disposable micro vials 50 µl to 2 ml
disposable micro vials 4 ml
glass vials (crown glass) up to 4 ml
Evaluation
software WINDOX, ≥ release 5.8.1
Auto NNLS
non -negative least square analysis with system-
defined input values, automatic fit range
NNLS
user defined fit-range optimisation for fine tuning
e.g. of PSDs with multiple modes
2nd Cumulant
second cumulant approximation (mean & width)
Stability analysis3
cross-correlation amplitude as stability measure
Compliance
FDA 21 CFR Part 11, ISO 22412